Production Specials Part II - Page 7
Page 7 of 7
One Man's Dunstall
Building one today
The Dunstall Honda was something I never thought I wanted until I started looking at pictures of Norton Commandos online. I had bought a non-running 1971 CB750 in 2001 with the intent of building a Dick Mann CR750 replica. As I started pulling the bike apart I saw that the engine cases were cracked. That ended the project. Instead I started looking for a Norton Commando to restore and came across pictures of a Dunstall catalog. The Dunstall Honda floored me. The Dunstall Norton's were slim and racy but the Dunstall Honda looked like nothing I had seen before. It wasn't rounded and slim like the Norton, it was angular and large. Where the Dunstall Norton looked like it could slip through the universe like a fish the Dunstall Honda was a fist punching its way through space and time. I resolved to find the Dunstall parts to build my own. It would be eight-years before I began the project.

I knew where to get the exhaust as I had seen one for sale online. Within two-months I had the exhaust, seat, and fairing (without the bracket or windscreen). The rearsets, mufflers, clipons, windscreen, tank and front fender would be much harder to come by. I wanted a new reproduction tank because of problems with the old fiberglass tanks and modern gas. I still ended up having to seal the new tank. The front fender is also a reproduction as I couldn't find an original Dunstall front fender. All the other parts are genuine Dunstall. The
hardest item to get was the windscreen. I had to buy an entire fairing just to get the windscreen from it. It took a long time before I had enough parts to start the build.

By the winter of 2009 I started to build the bike. The frame and cycle parts went to the powdercoater, polisher, and chromer. By spring the bike was a roller. I hadn't touched the engine since I originally pulled the bike apart in 2001. After talking with a welder, I decided to get a replacement. A donor bike was found and the rebuild continued. I decided to keep the original tuning and went with a 1st overbore, new valves, and a valve job. The theme of the build was "period correct" and I found some NOS .025 overbore pistons with the old part numbers still on the boxes (the part numbers were changed in 1972). In the spring of 2010 the motor went back in the frame and I got the first ride on a bike I bought back nine-years earlier. I didn't have the Dunstall Decibel mufflers yet, but the exhaust bark from the unmuffled engine was fantastic. The bike still needed paint and finishing touches. I put a couple hundred miles on it that summer; getting the Dunstall dialed in and fixed a few teething problems. My first impressions of the Dunstall Honda were mixed. It was fast and handled better than any CB750 I had ever ridden but it was also uncomfortable and cumbersome under 60 mph.

The winter and spring of 2011 saw some much needed additions. I found a catalog description of a steering damper that Dunstall offered for the CB750 and replicated it with a damper from the Moto Guzzi V7. I also added a second disc up front as the Dunstall
rearsets make the rear drum ineffective. I also found a set of Dunstall clip-ons that changed the riding position to make it more comfortable. I put about 1,000 miles on the bike this past summer and it's still uncomfortable and hard to maneuver in parking lots, but on the open road it simply flies. The 8v 750 pulls like a freight train over 4,000 rpm and hits 100 mph easily. It's actually hard to ride the bike at the speed limit. I find myself creeping up to 85 then 90 without even noticing it. (Makes you wonder how good Dunstall's engine was? NDW)

Owning the Dunstall Honda CB750 is a strange experience. It goes fast so well that riding it slow isn't really fun. It's manageable if you're going through towns slow to get to the open roads in between. The utilitarian aspect of the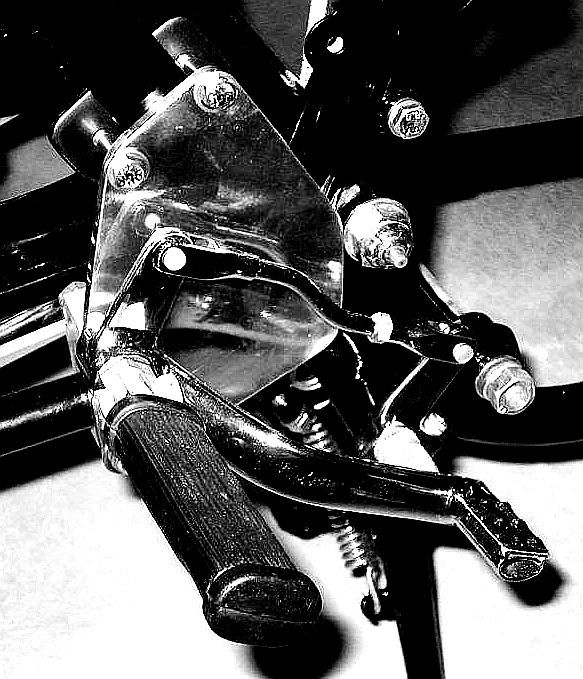 CB750 is gone in the Dunstall. Touring would be physically painful and commuting in traffic is frustrating to say the least. For fast weekend rides in the country or highway blasts the Dunstall Honda is superb. An added bonus is the sheer strangeness of the bike. Motorcycle riders quickly recognize the engine as a CB750 but have no idea what year or model the bike is. Many riders think it is from the early 1980s and are shocked to find out is an early 1970s special. Paul Dunstall put together a really neat package for riders that wanted more from their CB750 than touring and commuting.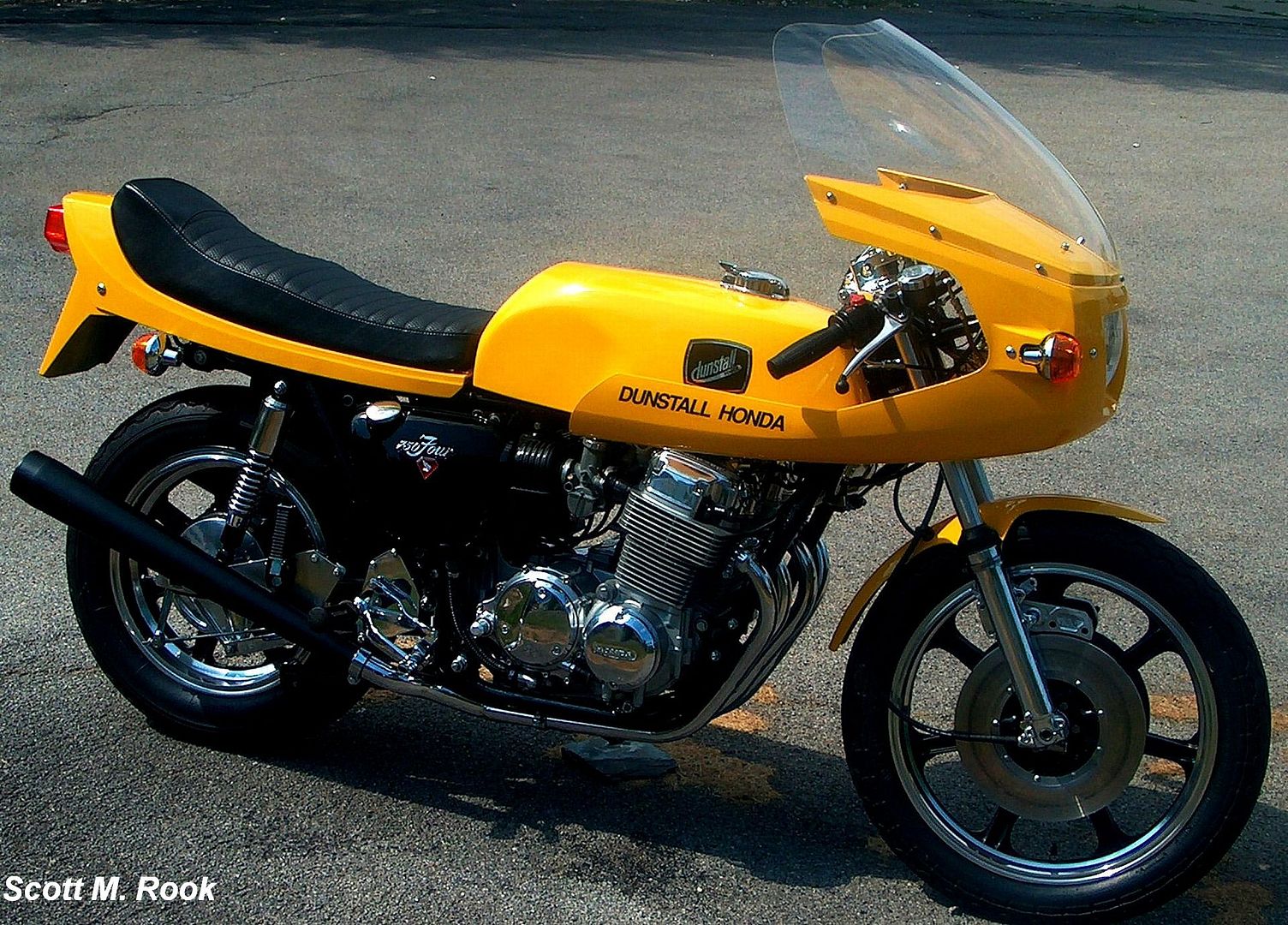 While the Dunstall Honda looks striking, it was built with fast road riding in mind. Fiberglass components replace heavy steel fenders and tank. The exhaust system produced over 11 extra horsepower at 6,500 rpm on the dyno. The steering damper and rear gas shocks made for a better handling machine at high speed. The addition of the extra disc (Dunstall option) completed the package and allowed for better braking. The Dunstall Honda is more than just a pretty package. When tucked behind the windscreen with the revs climbing and the scenery blurring past the Dunstall Honda is perfect. Through soft curves at speed or hard braking fast corners the bike would have ruled the road for a brief time in the early 1970s. Text and photos: Scott M. Rook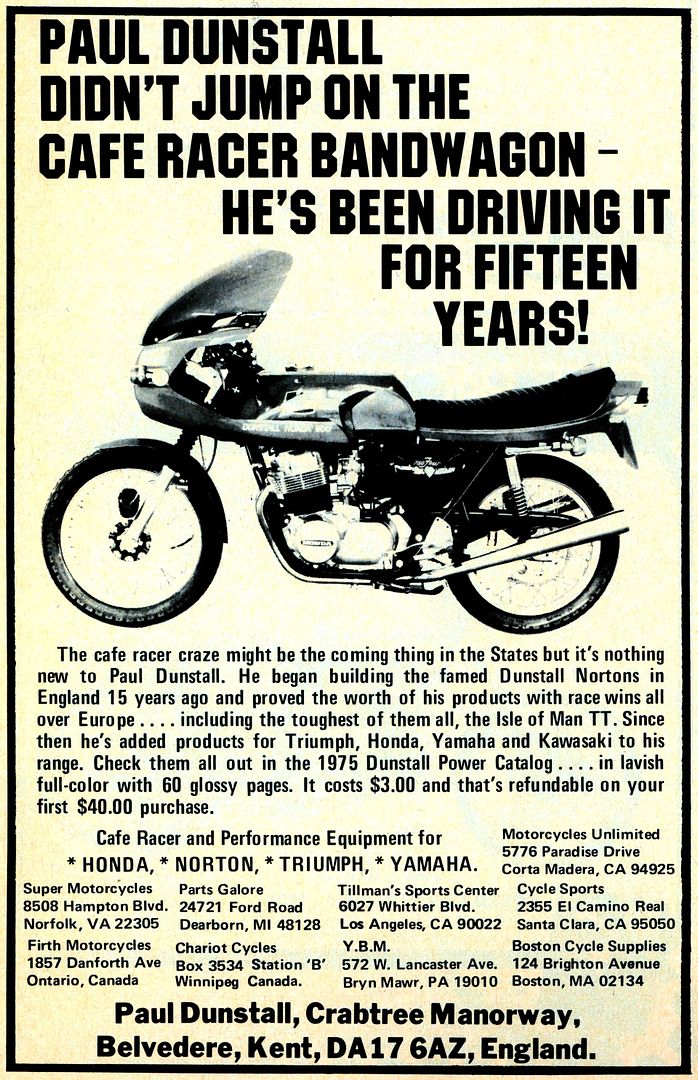 The industry moves on
Not surprisingly, a great deal was learned about Paul Dunstall in the course of researching and writing this installment of Production Specials. While the bulk of his fortune was earned in the retail segment, the vision and effort required to cover so much ground and outfitting so many models is often lost in the flash of his reputation. In this writer's opinion, the true brilliance of Dunstall & Company lies in those underrated Works racers and the factory-badged endurance racers that wore his name. It's possible that the Japanese wave of 1969 might have washed out Dunstall's efforts from our collective memory, but his later work with Honda, Kawasaki and especially Suzuki demonstrates his skills were not reserved for English twins alone. All things considered, it's no reach to say never before in motorcycling history has so much been accomplished and so little remembered.
The proof as they say, is in the doing. Most reports point to Dunstall's 1982 sale of the company as a reaction to financial recession. There is no denying that played a part, but the tapering of interest in his products had far more to do with his role in motorcycling's time line. Thanks in very large part to Paul Dunstall, when manufactures began taking all aspects of performance seriously and packaged handling, braking, power, acceleration and style into their products, his job was done. What's left from that journey are the images -both real and envisioned- we keep and cherish today. They are worth keeping and remembering fondly because for a time, nobody did sporting motorcycles better. Nolan Woodbury
Credits and thanks: Noel Hinz, Jim Greening, John Woodgate, Gordon McCall, and Scott Rook. Visit Scott's Dunstall blog HERE Visit THIS GALLERY for a selection of Dunstall catalog pages and adverts.