750 Commando Production Racer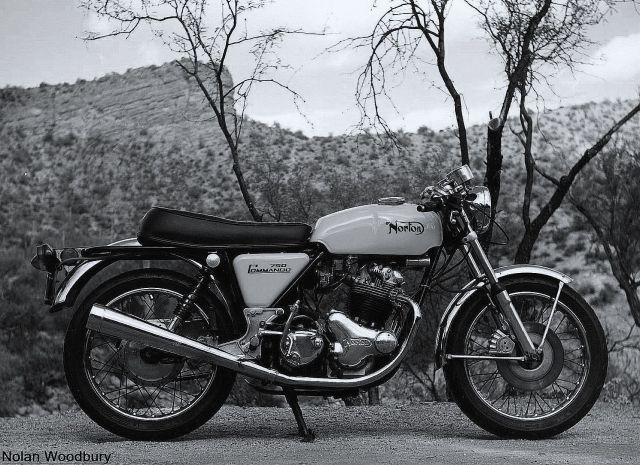 Called up instantly in the mind's eye, one can clearly envision the original Roadster's raked-forward engine, slim profile and symmetrical line. From that motorcycle came what many consider the pinnacle of British parallel twin production; the rare, elusive and utterly unforgettable 'Yellow Peril': Norton's 750 Commando Production Racer.


As the designer for a new range of large displacement, post-war road bikes the Commando owes its heritage to Norton engineer Bert Hopwood. Measuring 497cc, Hopwood's 1948 Model 7 put nearly 30-hp through its four-speed gearbox. Impressive as that first Dommie was, it foretold little of the greatness to come. Evolving through both mechanical and management woes, the engine powered a dizzying array of models including (but not limited to) the brilliant Featherbed-framed Dommie 650SS and the 750cc Atlas.


With cracks clearly visible in the walls that surrounded the once-invincible Brit-bike industry, the Commando made its debut in 1967. Affordable to produce by its financially conservative ownership, the Commando's decades-old twin was punched out to 745cc, tilted forward and strapped into a totally new chassis with vibration-dampening 'Isolastic' mounts that suspended the engine, gearbox and rear swinging arm. Designed by Dr Stefan Bauer and implemented into mass production by Norton engineers Bernard Hooper and Robert Trigg, Norton's suddenly modernized speedster was wrapped in aggressive new threads and tuned to impress. The 750 Commando Roadster proved a brilliant mix of performance and handling that caught on well enough to singlehandedly sustain England failing motorcycle industry.

Capitalizing on that surprising turn of events, Norton used the Commando as a platform for many variants. From the high-pipe S-type scrambler to Long and short range Roadsters, Fastbacks, Works/John Player replicas, even the oft scorned but collectible Hi-Rider chopper. So popular was the Commando that by 1971, Norton's entire range was based on it.

From the start the Commando was raced, and be it hill climb, flat track, road course or drag strip, the Commando's competitive success drove buyers to the sales floor. Appearing from the same Thruxton-based racing department as Peter Williams' TT-winning
Monocoque Works bike, the 750 Production Racer was homologated for class racing; based on the standard 745cc Commando and fitted with lights for qualification purposes. Overseen by Norvil headman Peter Inchley (a carryover from BSA when Dennis Poore's NVT was formed) and racer/engineer Williams, just over 100 Production Racers were built between 1971 and 1973. A true, factory racing motorcycle, the PR was fitted with a fiberglass fairing and racing bum-stop, a special exhaust, clip ons, custom brackets for the rear-sets and controls, a dash mounted ammeter, a Williams-designed floating front disc and Isolastic headsteady, an optional Quaife 5-speed box and more. Not just another styled-for-sales exercise, the PR shows the Commando in its purest, most focused-for-performance form...at least, those legal for use on public roads. Hand-assembled by Norton's Works staff, the PR's blueprinted, high output engine inspired the ill-fated Combat twin, but the PR suffered no such issues.


Not surprisingly, other versions of the Production Racer made by Paul Dunstall, legendary Brit dealer/racer Gus Kuhn and a myriad of other specialty shops appeared soon after. Those contacted for historical research reported that while these copies (Dunstall's specials, for example) were solidly engineered and well prepared, by virtue of expertise and experience they failed to reach the performance ceiling of the factory PR. To be fair, it was in large part the achievements made by Dunstall, Kuhn and many Notron riders/owners that inspired Norton to build the Production Racer to begin with, and Norton themselves championed the cause by releasing to their dealers detailed build information and the parts required to convert a standard Commando to Production (or AMA/750) Racer specification. And even though the PR's life as a competitive class racer was limited, its appeal to Norton enthusiasts wasn't. A fascinating study that we'll touch on later, both Norvin Engineering and ex-Norton tuner/racer Norman White offers complete new Commando Production Racers in whole or part, built to modern specification and a good deal more capable than the original. Check the links below.


Among motorcycling's most desired machines, authentic Norton Production racers are extremely collectible and ever-rising in value. Supported extremely well by a passionate and knowledgeable aftermarket, Commando ownership is made easier than ever with modern components delivering new levels of reliability and performance. The established engineering model in the minds of most vintage bike lovers, the parallel twin is a modern icon. From those, the Norton must surely rise above, if for nothing more than the attention and excitement it generates. The legacy following Norton's 750 Commando Production Racer isn't as a great race bike. Instead, it claims an even greater title as the greatest production Commando. Nolan Woodbury
Norton 750 Commando Production Racer
745cc parallel twin 2v with pushrods.
73 x 89mm with Isolastic mount (Factory high compression pistons, porting and carburetors. Hand assembled at Thruxton)
4-speed (5-speed optional) Chain primary
One (1) Peter Williams spline-mount floating disc brake and 178mm vented rear drum.
3.25 x 19" front, 4.00 x 18" rear wheels
Wet weight: 435-lb
For new Norton spares and complete motorcycles visit:
http://www.normanwhite.co.uk/profile.htm