A Bay Area treasure trove is auctioned

As an avid motorcycle enthusiast, I began hearing rumors of an old bike collection being unearthed in San Jose. Like "Nessy" or Sasquatch or some rare and elusive Duesenberg in a barn somewhere, I was now on a mission to seek it out. I would not want to miss what sounded like a piece of San Jose history unfolding. So down the Rumor Mill trail I went and I hit paydirt. Joining a friend on a M/C store run around the valley, we ended up at Raybers Parts Mart; a British bike parts heaven off of the Monterey Hwy. Bingo! They told me the rumors were true and the walk thru for the auction was just days away. Better yet, the place was Bob Rayber's old shop, Brooks Cycles. You just can't make this stuff up! The upcoming auction featured the old Ed Brooks Cycle Collection, after 40-plus years of being a BSA, Triumph, Norton, Honda and Moto Guzzi dealer dating back to the end of WW II, he was done. Rayber rented the front of the building and kept the barn-sized storage area behind to hold a sizeable collection both Bob and Ed's had started. Years later, Bob moved to his new location a few miles away and the storage, now full of motorcycles stayed boarded up for another 20 or more years.
Fast forward to modern day. Ed Brooks and his wife are now deceased and it's Thursday, November 10th when I walk into the "mother of all time capsules"; a motorcycle filled warehouse with room after lovely room stuffed to the rafters with old bikes. Vintage signage litters the walls, a poster of pointy-boobed Jane Mansfield
astride a scooter catches my eye. I look up and around to see a giant Hodaka banner, Bultaco signs, old leather helmets, riding pants and goggles, boxes of manuals, parts everywhere...get the idea? There's a room in the back filled with just engines, a twenty-foot tall wall of rims and tires, three more large rooms filled with old motorcycles that very obviously have sat untouched for many years. Best described as relics or museum pieces or, at very least, enough hard to find parts to satisfy hundreds of collectors. Vincents, Matchless, AJS, Moto Guzzis, Vellocettes, Triumphs, Nortons, Harleys, Indians, and Arials. I have to pinch myself! I'm in motorcycle mecca...or at the very least, British motorcycle mecca.
I return on Friday to peruse it all again. Sure, there are bikes I would love to have, but for now I'm just trying to take it all in. After all, the discovery of nearly one-hundred and ten complete, vintage motorcycles -in your own back yard- just doesn't happen every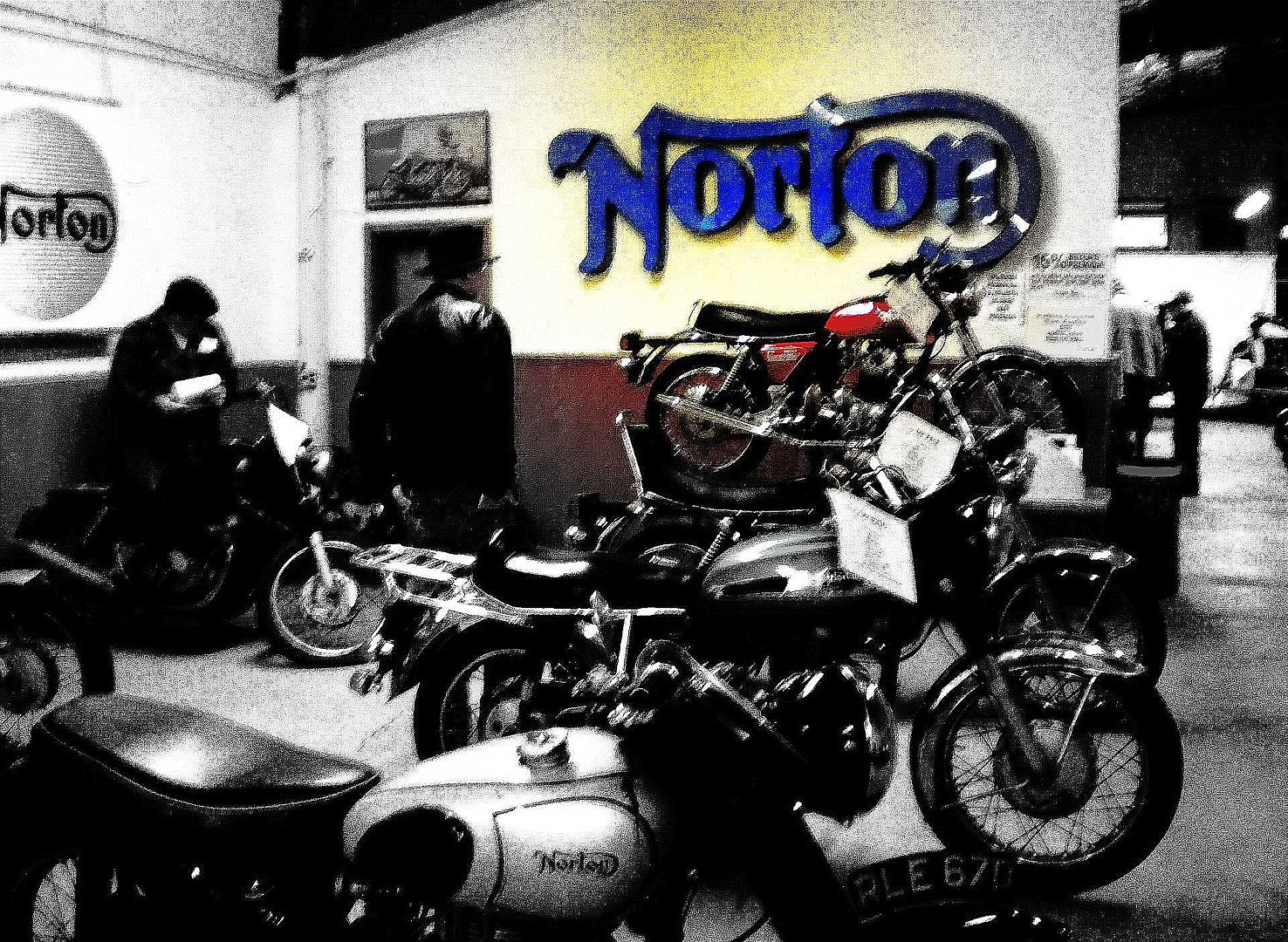 day. Maybe not every lifetime. I stay several hours, mentally archiving all the inventory.
Saturday morning, Neale and Sons; a family owned and operated auction house from Saratoga seem to have it well under control. His wife, daughter, sons and other family members appear to have been to this BBQ before. By 10AM, I am looking at 300 to 400 cycle enthusiasts taking their seats. Doug Neale, owner and auctioner does a brief overview of the auction process for newbies, pointing out the several large monitors positioned so you can see what item your about to bid on. His sons are left and right of him and make grunting noises when the see a bidder's number raised. A girl sitting near Doug uses a laptop to monitor the live online part of the auction. Neale did an admirable job of laying out the thousands of items for the auction, needing three full months of photographing, categorizing and boxing up to bring the items into a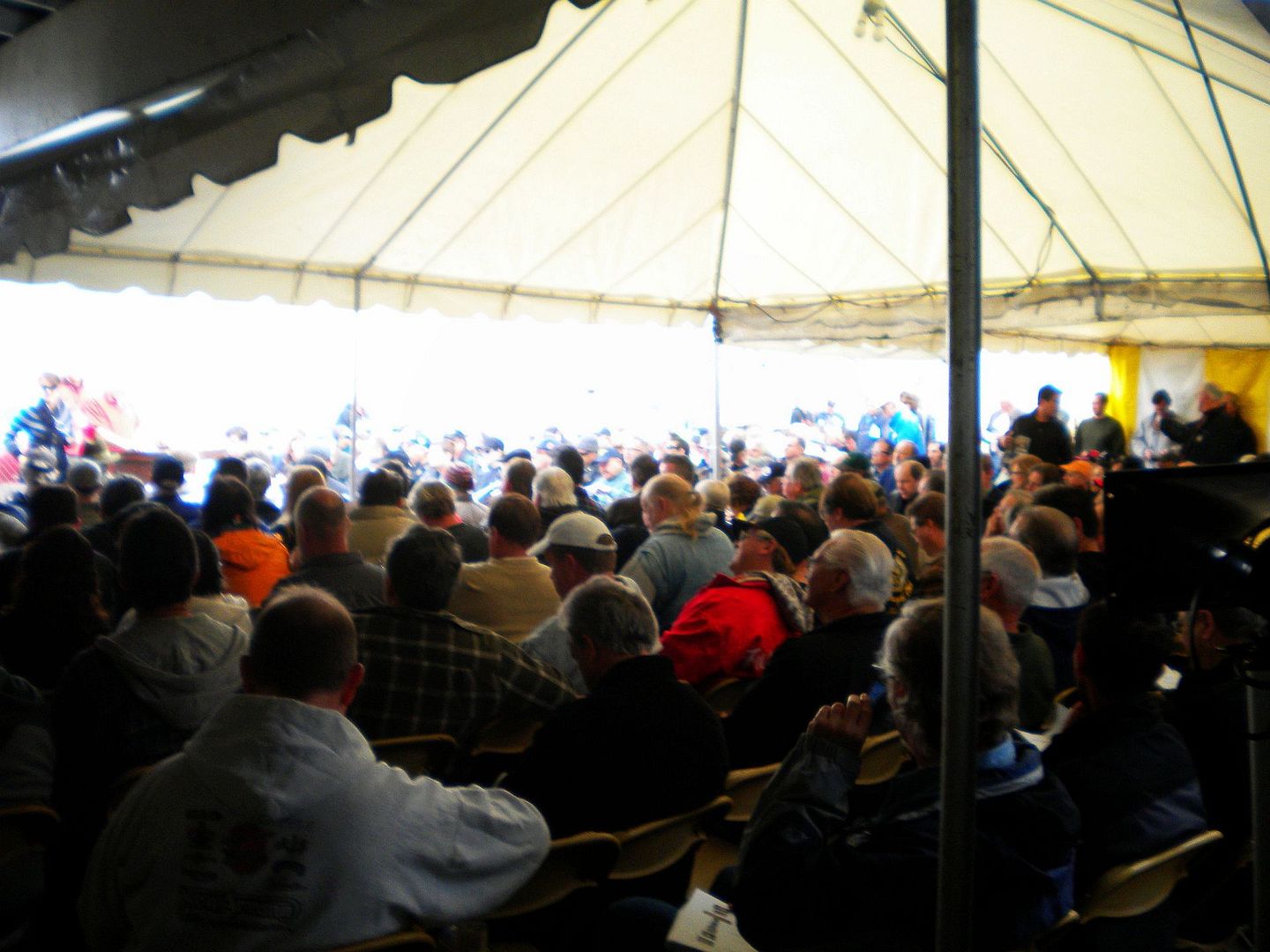 biddable format! It seems to go really smooth, tackling the large amounts of memorabilia first with some of the big Triumph, Norton and Moto Guzzi signs going for thousands! The bikes ranged from $1000 up to $40.000, and I could see many people bidding for others; cell phones pressed against ears and others keeping track and marking every sold price down in their catalog. Nice to see I'm not the only nerd here! Paul Leduc (Self proclaimed gearhead & motorcycle enthusiast.)