CBR1000F Hurricane owner's survey
Winds of Change
B
y the late 1980s, motorcycling had evolved into a world of classified machines. Gone was the standard; that base, do it all model that previously served as a platform for owner personification. Seeing dollars fly out the window to aftermarket suppliers, the motorcycle makers of the 1980s attended to the popular classifications by clearly defining the touring, sport and cruiser segments. Leading this charge was Honda, who by the middle of the decade offered a myriad of engine configurations and with surprisingly little overlap, slotted each into its intended market. This driven for dollars approach was (at least in part) a reaction to the noticeable sales dip the motorcycle industry experienced after the roaring 1970s.
(Click to enlarge images)
Although successful in Works trim, Honda's street line of VF/V4s were taking a beating on the sales floor, fueled mostly by a well publicized rash of top end problems on the VF500. No matter how Honda tried convincing the public otherwise, buyers were starting to shy away. In addition, the firm's flagship VF1000R failed to generate much interest, annually placing at or near the bottom in most super bike comparison tests. Making matters worse were models like Suzuki's GSX-R; stealing sales away with the engine configuration Hamamatsu had made famous. In mid 1987 Honda responded with the CBR1000F; enclosing an all new, 998cc liquid-cooled inline four inside yards of computer generated, aerodynamic-sculpted ABS.
Jon Fife – Washington State. 1990 Model
(Second series)
"
This was the first bike I"d owned that was completely settled at triple digit speeds and well planted in any corner. I have fond memories of this bike advancing my skills to the point of eliminating the 'chicken strips' on the tires; riding faster, harder than I ever had, and endless smiles. However, even at age 34, when I bought the bike, it was not 'all day comfortable.' Even with the aftermarket Corbin Seat and Heli Bars, by the end of the day I was sore. It was also heavy... an all day romp through the twisties let you know the weight was there.
"
"
Problems? Only two areas for this model. It chewed up front tires faster than rabbits running for their holes, and the cam chain tensioner. Honda claimed to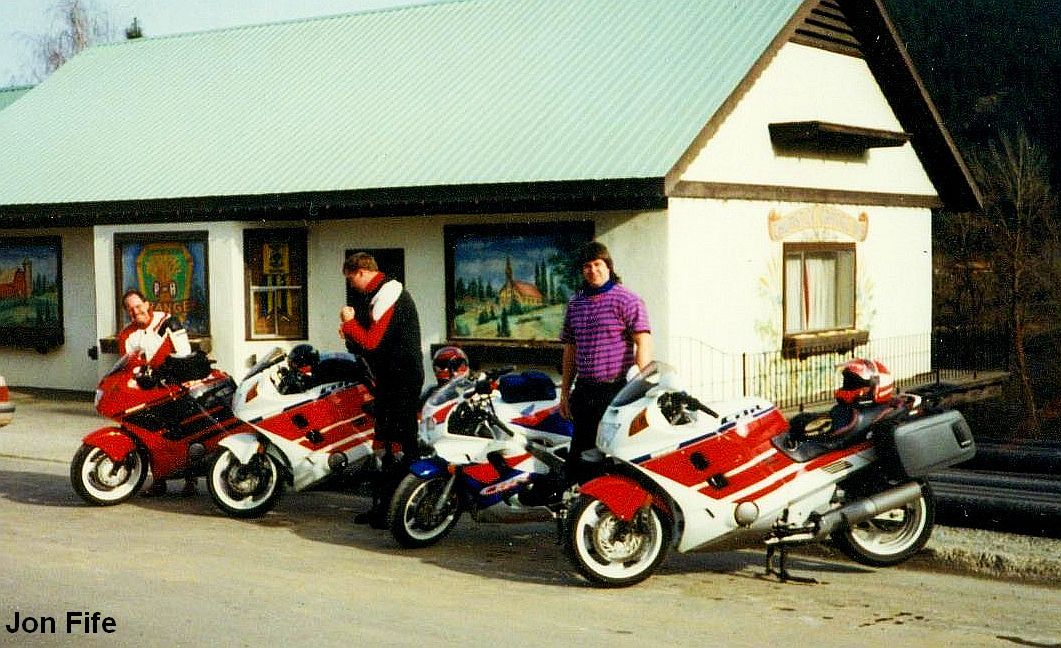 have cured this problem when the 1990 CBR was introduced, it didn't. Plan on having the tensioner replaced in as little as 12,000 miles (as was mine) and then it had to be replaced again at 26,000 miles.
"
"
Would I buy another? In a heartbeat! I just need to find a great condition red and black second series…in my mind, the best color scheme for the CBR1000F
"
Manufactured and imported into the USA from 1987 to 1996, Honda revised the CBR1000F three different times. Only 18-months in, the bike was refocused into a sport touring role. The Hurricane moniker dropped, the 1989 CBR1000F was treated to a cosmetic makeover that included a complete redesign of the front fairing, more provisions for suspension adjustment and larger tires in a radial profile. As mentioned previously, Honda saw to the original version's noisy cam chain with an uprated tensioner, then treated the engine to a slight power increase (135-bhp). In 1992, the CBR was restyled again, now more streamlined and fitted with Honda's new DCBS linked brake system. The introduction of the CBR900RR spelled doom to the 1000F, but Honda continued production for select markets until 1999.
Mike Malone – Kansas. 1994 Model (
Third series
)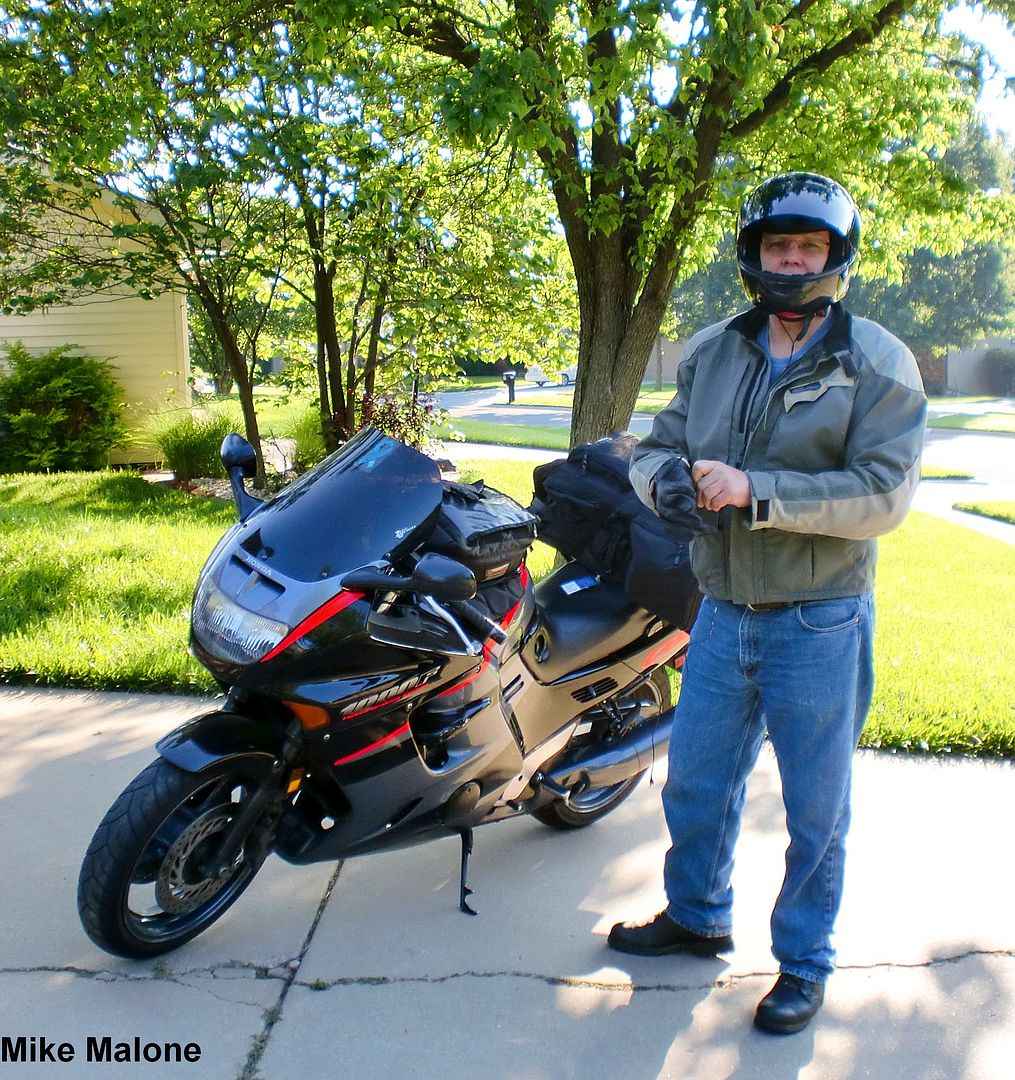 "I bought my CBR1000F new in 1994. I had been without a bike for years and this was my re-entry into motorcycling. My previous bikes had included a couple of Hondas, Norton Commandos and my last bike; a Kawasaki Z1. I had never owned a sport bike before and was worried that I wouldn't like the riding position. Comfort isn't an issue. I ride nine months out of the year, mostly to work and short trips. I've enjoyed some longer rides to Missouri, Arkansas and Iowa. Last spring, some friends and I traveled from Kansas to Colorado, up to Wyoming, South Dakota and back home."

"Seventeen years in, I have 92,500 miles on the bike; just short of my goal of the 100,000 mile mark. The Honda has been absolutely trouble free until last winter when the rectifier bit the dust. Until then, I hadn't done anything but routine maintenance. I've read about the cam chain issues but it hasn't been an issue for me. My can chain is a little noisy, but only when the engine is cold. When I first got the bike I thought I went through front tires faster than rears, but when I slowed down and quit grabbing so much front brake, that issue disappeared. Front and rear tires seemed to last longer as I got older. My friends have been telling me the rectifier is a sign I should get a new bike, but I've grown attached to this one."
(See additional photo links below)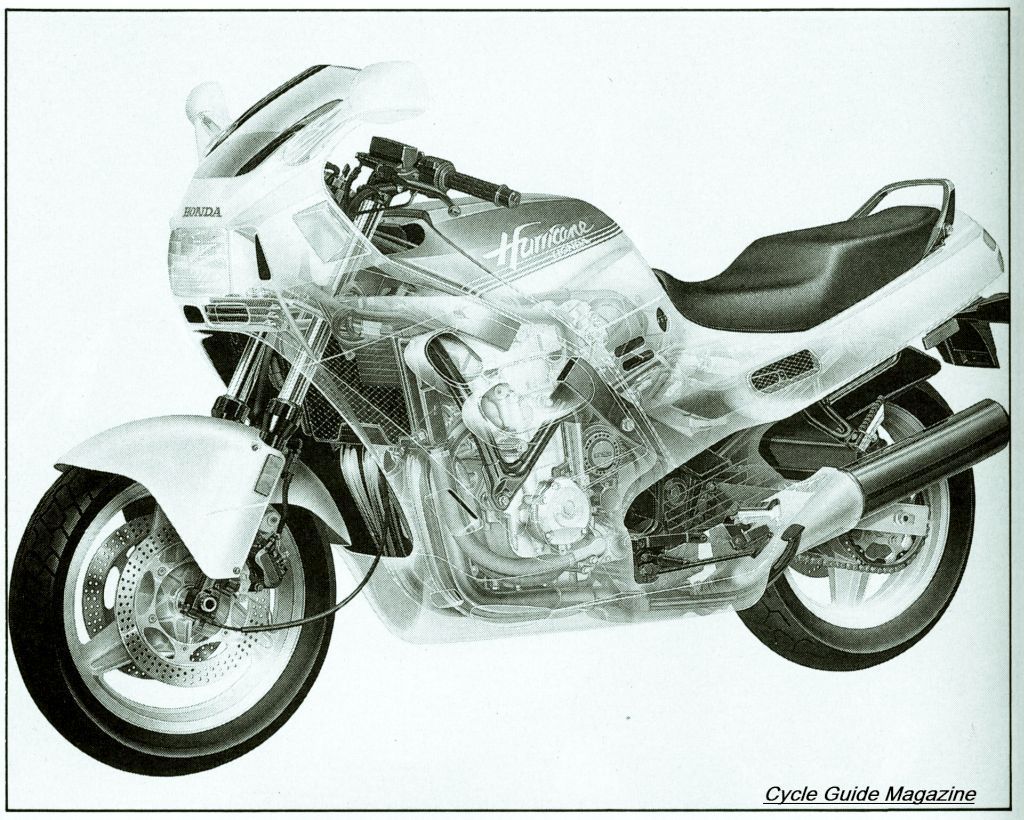 Upon its release, every major motorcycle magazine placed the CBR1000F on its cover. The tests were all favorable, including the one written by Marc Cook for the April, 1987 issue of
Cycle Guide
. Cook's report not only focused on the CBR's highly touted aerodynamics, but the economics behind the Honda's build. The 1000F engine went largely unaltered throughout its history, with Honda revealing the savings found by not only making one cylinder and head per bike, but the assembly benefits as well. Measuring 998cc the four-stroke four featured a DOHC/16v head, liquid-cooling, and four downdraft 38mm carburetors. The alternator was mounted behind the cylinder bank to reduce width. Peaking at 8,600 rpm the engine produced 130-hp, netting the testers at CG a blistering 10.8 ¼-mile and a top speed of 154-mph.
With its all encompassing bodywork, nary a frame tube shows on the Hurricane. That's a good thing, because what's hiding under there lacks the usual detailing needed when exposed. Another cost cutting move, the frame consists of
sections of round and boxed steel in a perimeter design that uses the engine as a stressed member. Honda reported saving the CBR customer $200 by using steel instead of aluminum, which only weighed four-pounds less. The 41mm Showa fork is air assisted and a matching adjustable monoshock with cantilever linkage out back. The front brakes are twin 296mm discs pinched by three piston Nissin calipers, the rear is a single 256mm unit. 585-lb wet, the CBR1000F listed for $5398.
Craig Howell – California. 1990 Model (
Second series
)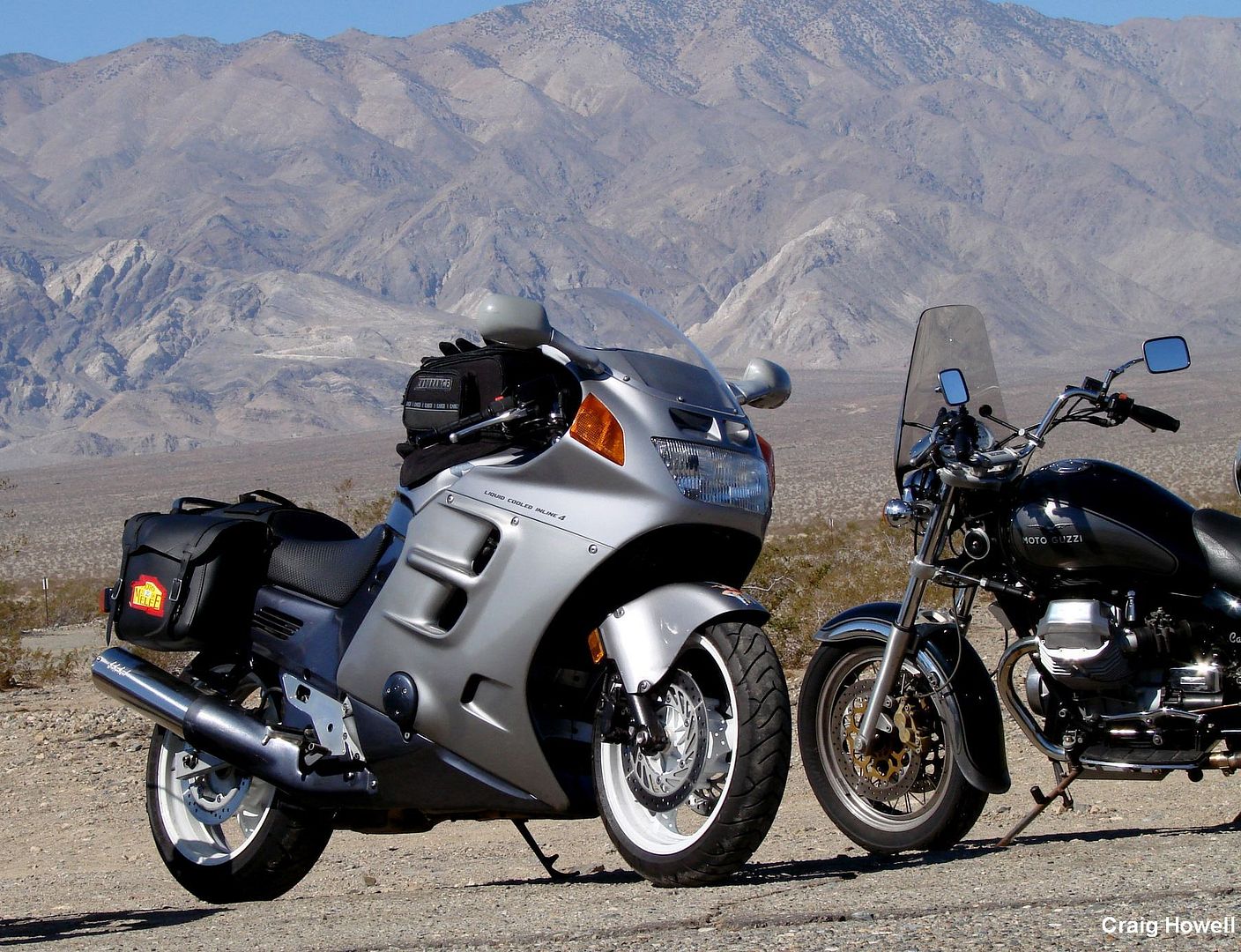 "I bought my CBR used with 43,000 miles in fantastic condition from a private seller for $2500 in 2005. I had no issues whatsoever. I rode it all over California for 3 years. The bike's comfort and effortless power really came into it's own on less traveled country highways. This was the most comfortable motorcycle I have ever owned, and had fantastic top gear power that allowed it to enter warp speed in order to pass a group of sightseeing tourists in one go. In fact, when riding with others I had to remember that not everyone's bike could do this. A friend with a new BMW R1200 sold it with less than 2000 miles as he was so disappointed in its power after riding for 500 miles with me. When we'd come upon a chain of four or five cars bunched up, I'd pass them all effortlessly in a few seconds, but he'd have to pass them one by one as he did not have the speed to take them all at once."


"Would I buy another? I would if I could travel back in time by 10 years. When I had the bike it was my "modern" go anywhere, anytime bike with dealer support if needed. I reluctantly let it go three years ago and bought a Yamaha FJR1300. I like the Blackbird too. That bike has a fantastic engine!"
The current state of affairs for the CBR1000F and machines like it is parts availability and aftermarket support. And while the popular Goldwing and 8v CB750 remain aftermarket darlings, there's a huge demographic of 80s and 90s Japanese sport bikes that remain virtual orphans from the dealership perspective. With some due diligence, a dedicated owner should be able to keep his liter-bore Hurricane purring happily for many years, and that's a good thing. Despite the CBR's '
Pacific Coast
' full coverage vibe, the big Honda scores high marks in every area that's important to serious riders. Fast, handsome, capable and very well made, the cost of omission is currently low, making the CBR1000F the cheapest path to 160-mph.
Nolan Woodbury
Press Clippings: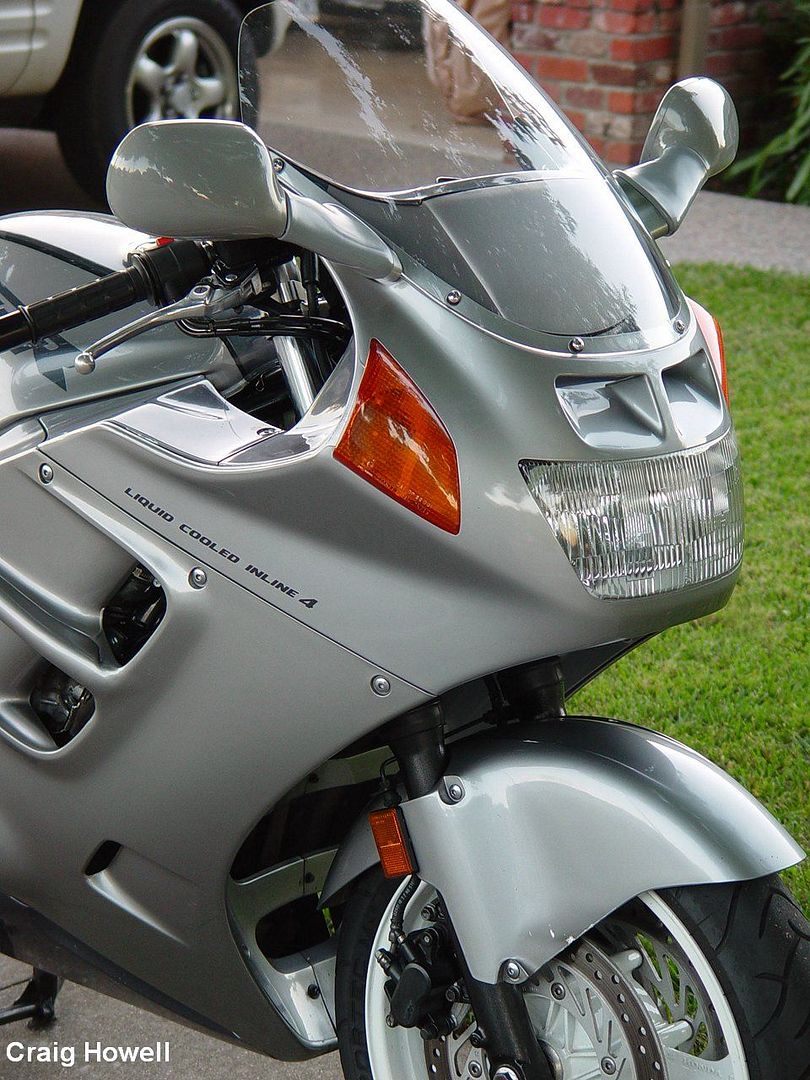 "What the Hurricane's impressive numbers don't tell you is what a joy the engine is to experience. Smoother than a Rolls Royce salesman, you'll swear its encased in rubber. And despite its arm-stretching peak power the big motor is amazing docile. There's nary a dip in the powerband with right-now throttle response. The CBR's 6-speed transmission has the throw of a 125cc motocrosser and the brakes are astonishing. The handling is absolutely linear and neutral. Confident, even at triple digit speeds."
Cycle Guide April 1987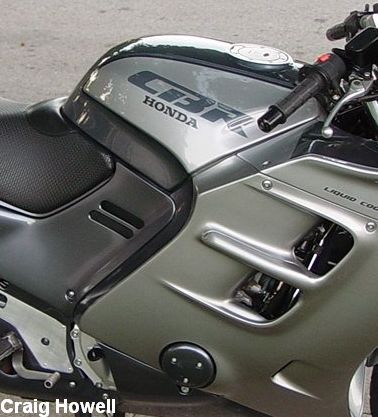 "
Whatever the reason, the Hurricane's engine is a marvelous power producer. In effect, there is no powerband, just a steady, steamrolling rush that doesn't seem to end. Helped along by prodigious torque and a six speed transmission, the Hurricane is content to loaf along at an impressive pace using just it's top two gears."
Cycle World, April 1987
"In horsepower and torque only the Yamaha V-Max has bested Honda's CBR. In power to weight however, the (Kawasaki) 1000R, (Yamaha) FJ12, even the lightweight (Suzuki) GSX-R1100 cannot match the Hurricane. It isn't just the strongest sport bike we've tested, but the fastest. 161-mph!!"
Cycle, April 1987
VMOL Owner's Survey. (31 participants averaged on a sliding scale of 1-10)

Engine/transmission - 9
Suspension and braking - 8
Fit and finish - 9
Comfort/ergonomics - 7
Reliability/parts availability - 10
Owner satisfaction - 9
Specifications:


Honda CBR 1000F (1987)

Engine:
998cc, liquid cooled, transverse four.
DOHC, 4v per cylinder.
Bore x Stroke: 77 x 53.6 mm
Compression Ratio: 10.5:1
Induction: 4 x 38mm Keihin  
Ignition: CDI

Transmission:
6-speed, wet multi-plate clutch, chain rear drive

Chassis:
Steel perimeter/stressed member w/boxed section swingarm
Tires: 110/80-17 (f) 140/80-17 (r)
-Special thanks to Craig Howell
Additional images:
Gloss black and Monza red (first series)
Gloss black and Monza red (first series)